iPECS eMG100
Simple and Cost Effective yet Reliable and Powerful Communications
It's time for unified communications (UC), the transformative tool that integrates all your business communications into one place. Here's the cost competitive and simple platform for small and midsize businesses to help connect better, boost efficiency, and move your business to the next level.
Best-in-class hybrid for analog, digital and IP technologies
Single cabinet for basic and expansion KSU
Equipped with all RJ45 interfaces
Max 214 ports – 74 trunks/140 EXT.
Wall or 19 inch rack mounting
Cost effective hybrid platform
It's a cost effective hybrid platform that supports IP, digital, analog, and UC devices, so you can work from any device with any technology. When looking for a communication system and value for money comes as the main decision-making factor. iPECS eMG100 provides many built-in solutions that will maximize your return on investment. TDM interfaces, built-in VoIP and VM capacity with emergency alarm and relay and paging features are all embedded as default. Compact design, single cabinet with many of the communication features included out of the box. Enjoy your best-in-class hybrid communication system with iPECS eMG100.
Simple single cabinet
With a single cabinet solution it removes the hassle of carrying multiple cabinet types for your communications solution. iPECS eMG100 comes as a single cabinet that can be wall mounted or 19-inch rack mount depending on your requirements. All ports are equipped with a RJ45 interface to have universal compatibility. Whether you are looking for series of capacity upgrades, complete hardware expansion or technology upgrade from TDM to IP, this single cabinet simplifies your solution options. Add an additional license to connect another iPECS eMG100 cabinet to simply double your communication power
Reliable multisite deployment
We provide multi-site deployment with a local/branch system that supports local suvivability (LCM). Centrally connected and managed, your communication system is secure and reliable. In case of a network failure, local servers will take over the operation to securely manage the local communication system. Backup connections to the local PSTN network can also be used as a last resort. Avoid downtime with automatic fail-over between sites, so that your clients can reach you whenever they need.
Easy installation and simple management
Transition seamlessly to a new system that doesn't disrupt. IT managers can breeze through initial installation, and quickly customize settings for easy management. The user-friendly interface is consistent across devices, keeping training times quick. Simple software installation makes the initial settings effortless. Multiple levels of user-friendly administration tools also add value for easy management. Web-admin helps IT managers to easily customize their workflows and manage the real-time operation locally and remotely. The 'Web User Portal' allows end-users to easily personalize their communication needs from anywhere and anytime on any device such as their desktop, smart phone or tablet.
Prepare for growth
Be prepared for expansion, with a seamlessly scalable communications system. It's easy to add capacity, along with all the features you need for easy expandability. Take advantage of the business communications platform that adapts to your requirements.
2 user license included for iPECS UCS / iPECS Click Call
4 VM and 2 VoIP channels included on basic KSU
32 IP EXT. Included and expandable up to 64 EXT.
32 Mobile EXT. Included and expandable up to 140 EXT.
ACD, Audio conference, VM to e-mail notification are included
Relay, alarm, paging and MOH are included
Rich business applications
iPECS eMG100 provides a various range of business applications and mobile clients to fulfill varying needs and requirements in the small and medium sized enterprise environments. It also offers interoperability with various 3rd party solutions in hospitality, healthcare and other vertical industries.
Out of the box Unified Communications
As the most compelling advantage, advanced business communication features are provided by default. Users can improve business efficiency and productivity with embedded UC features including real-time voice, video and presence enabled instant messaging under a single user interface on any device.
Tailor to your needs
All businesses are different. Whatever makes you distinctive, pick the applications and integrations you need to connect better and deliver more. Choose from the many add-ons to meet your specifications from our suite of products or from compatible 3rd party solutions with easy integration. iPECS eMG100 provides a cost-effective way to use existing solutions by using universal interfaces such as Web API to provide compatibility.
Out of the box premium features
In addition to embedded UC with iPECS UCS, TDM interface and VoIP channel capacity, premium features are also included in the basic package. For efficient internal and external communications, the system has an Audio Conference Bridge and Automatic Call Distributor (ACD) default to increase your organization's productivity with no extra cost. Use the audio conference bridge for daily group call meetings up to 13 participants with max 40 simultaneous conferences. Using the built in ACD will provide a better customer service allowing all call to be answered and routed to the proper departments, providing real time monitoring and supervision, as well as call statistics and ACD event messages for management reporting.
Aspire to be mobile
By embracing VoIP technology, you can benefit with the enterprise grade mobility of the iPECS eMG100 that is maximized for mobility solutions. Whether in the office, warehouse or in a factory IP DECT provides reliable communications even in the high demanding environments. For more personalized mobility and for outside office the iPECS UCS brings the power of a desk phones into smart-phones or tablet PCs. In addition, the Mobile Extension (MEX) feature is provided for seamless communications and ease of use for calls to be seamlessly and easily moved back and forth between desk phone and mobile. Be professional with one-number service from any device in any location. Utilize iPECS mobility solutions and take the office with you.
Applications for Business Performance
Make your communications efficient with our full suite of business applications. Build smarter work-flows for better collaboration with time-saving solutions powered by iPECS. iPECS eMG100 offers communication add-ons as a competitive differentiator that makes your business more agile and flexible.
iPECS UCS
IP based productivity-boosting enterprise UC
Integrated presence and IM, SMS continuity
Voice and video call & conference
Click to call and call control on your PC for your call devices
Call recording on any device
CRM integration support
Directory service/phonebook management
Organization chart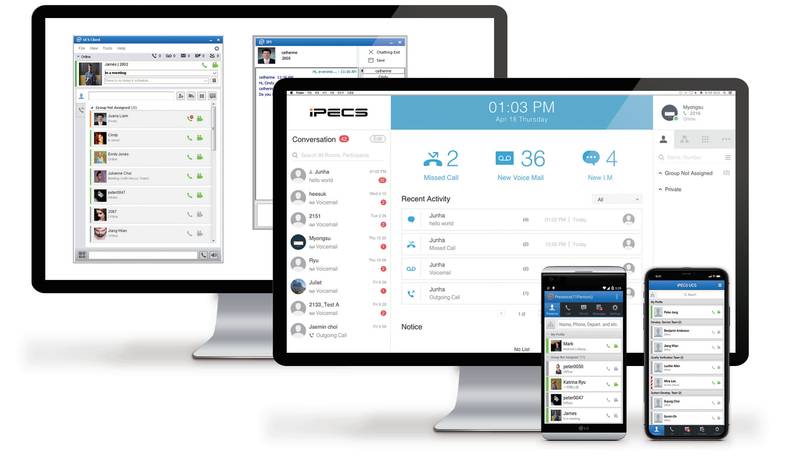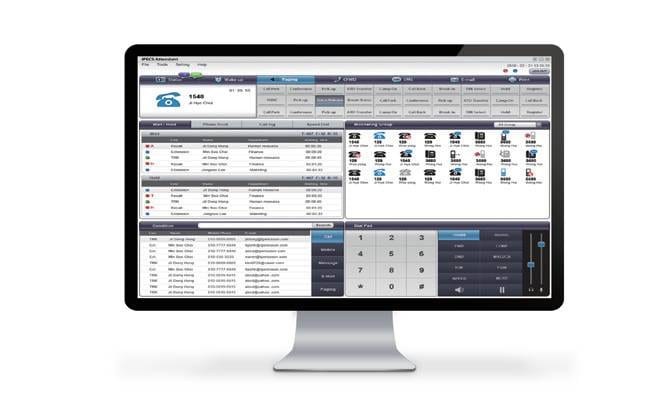 iPECS Attendant Office
IP based Attendant application for receptionists
Handle calls easily with simple click or drag & drop
Wait time and priority based call handling with caller information
Call park, paging, and e-mail for multi-purpose call handling
Presence monitoring for all devices including phones and clients
Embedded IP softphone : Desktop call control mode supported
Directory service/phonebook management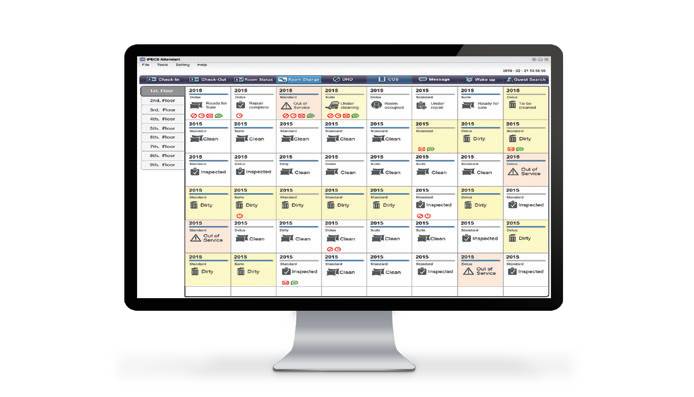 iPECS Attendant Hotel
Hotel solution optimized for small to medium sized hotels
Effective front desk and staff work
Night service or emergency mode
Maximize guest service
Effective call management
Productivity features :

Various Hotel features
Various and quick alternative contacts
Flexible and configurable layout and user interface
Statistic report and Snapshot of group monitoring
Local language support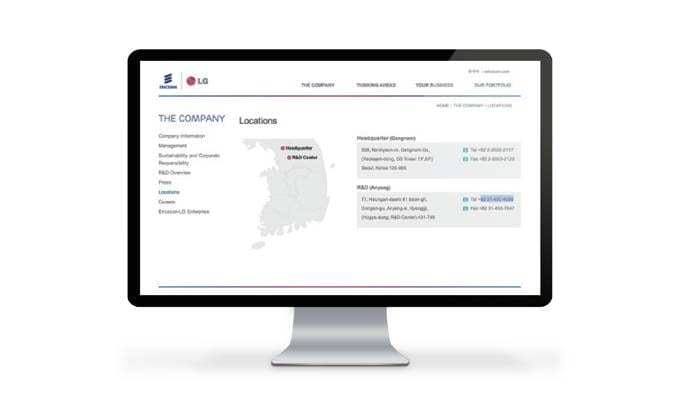 iPECS ClickCall
Standard windows application to make dialing a breeze
Click to call from any selectable number in Windows application

Show previous dialed call log, up to 10
Exit/Setup through the icon in Windows tray
Setup dialing information
Multi language support

Call control client without voice module
Easy installation : Simple call client without dedicated server
iPECS CCX
Browser-based multi-channel IP Contact Center
Contact Center solution integrated with iPECS platforms

Multi-channel inbound and outbound contact center
iPECS CCX IPCR is provided for a call recording

Benefits of all software solution

Software based media processing through SIP
No PSTN media interface card
Interactive Voice Response (IVR)
Monitoring and report
Agent's desktop software

Next generation single multimedia solution

Email, Voice Mail, Fax, Web chat
Social networking with Facebook and SMS server
Multimedia outbound Tele-Marketing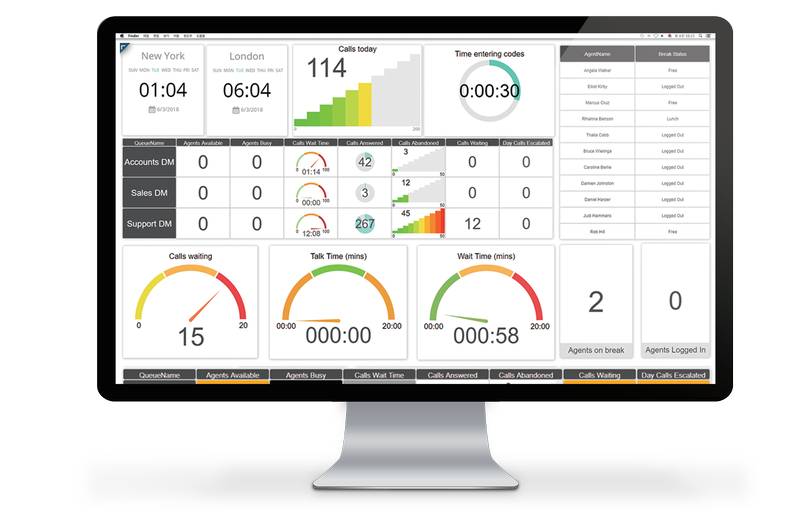 iPECS IPCR
Cost effective single server IP Call Recording solution
Powerful value added features

Voice packet encryption on call recording
Real-time monitoring and recording
Remote maintenance and automatic alarming
Single server for all terminals

Intuitive user interface

Users can easily access the recording files over web browser
Powerful statistics features with real time graphic view and search options
User based access level management with intuitive GUI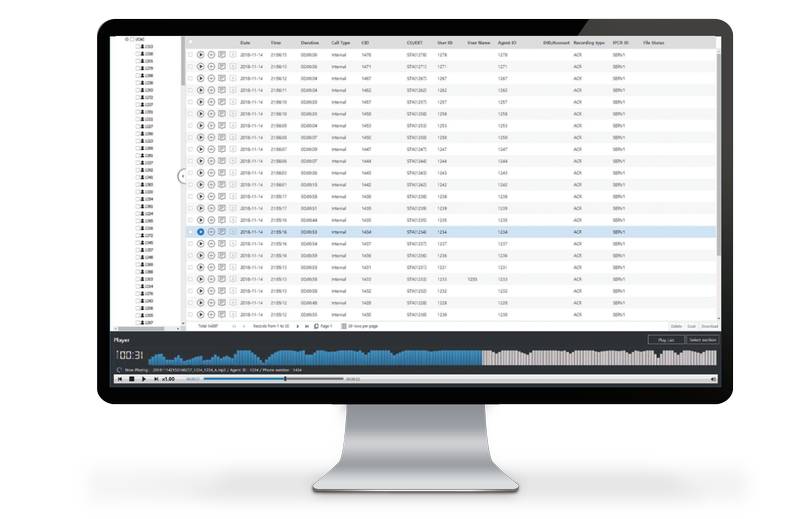 iPECS RCCV
– MS Lync/SfB Integration
Cost effective solution to use iPECS voice in MS Lync/SfB
RCC Mode for desk phone call control solution: MS Lync/SfB with iPECS RCCV Client and desk phone

Remote call control for iPECS desk phones in iPECS RCCV Client
Desk phone status updated to MS Lync/SfB presence

VC Mode for SIP voice : MS Lync/SfB with iPECS RCCV Client

iPECS RCCV Client as a SIP extension
No iPECS RCC Gateway needed
MS Lync/SfB calls for MS Lync/SfB clients
iPECS RCCV Client soft phone status updated to MS Lync/SfB presence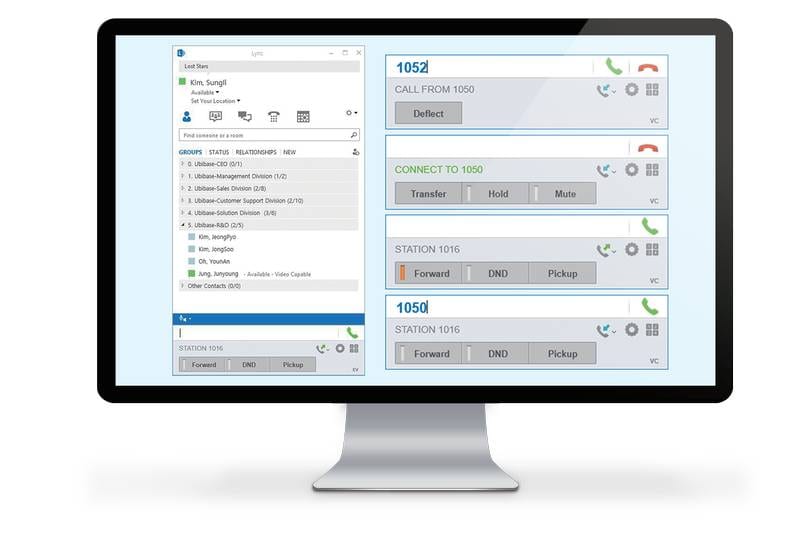 Drop Us a Line Anytime
Contact us any time and one of our team members will be happy to help you