Business Phone Systems
We offer many great multi-line systems, VoIP systems, PBX phone systems, and cloud-based systems for businesses of all sizes.
Connect with IDeACOM® NC today; we're here to provide you with the best business solutions!
Business Phone Solutions
In addition to all the features included in VoIP residential service, business VoIP phone services include many additional features that are ideal for business functionality, like:
Features of a Business Phone System
Managing your core business can be a difficult task to accomplish; however, improving your communications is a great place to start. At IDeACOM® NC, we offer advanced office phone systems for small business with features suitable for your unique business needs.
Conference Calling
Everyone has unique ideas, and no idea is bad; however, it's hard for everyone to voice their opinion during conference calls with bad connections. With IdeaCom's systems, bad connections are not an option.
Call Monitoring
With this feature, you can listen to the conversations between your employees and your clients, studying their technique and attitude toward the client.
Multiple Lines
Being able to multitask allows you to accomplish much more than with a single line. Plus, with multiple lines your customers are much less likely to ever get a busy signal, thus increasing your conversion rates. 
Voicemail
It also allows you to continue working if you are unavailable for a phone call and gives your customer the opportunity to leave a message on your voicemail with their information.
Call Forwarding
If you have stepped away from your desk or are out of the office, you can have all your incoming calls directed to a designated phone. With this feature, you will never miss a call.
On-Hold Music or Messages
Having music or informative messages while on hold allows the customer to know someone will be with them ASAP, while also giving them helpful information to consider while they wait.
What is a Business Phone?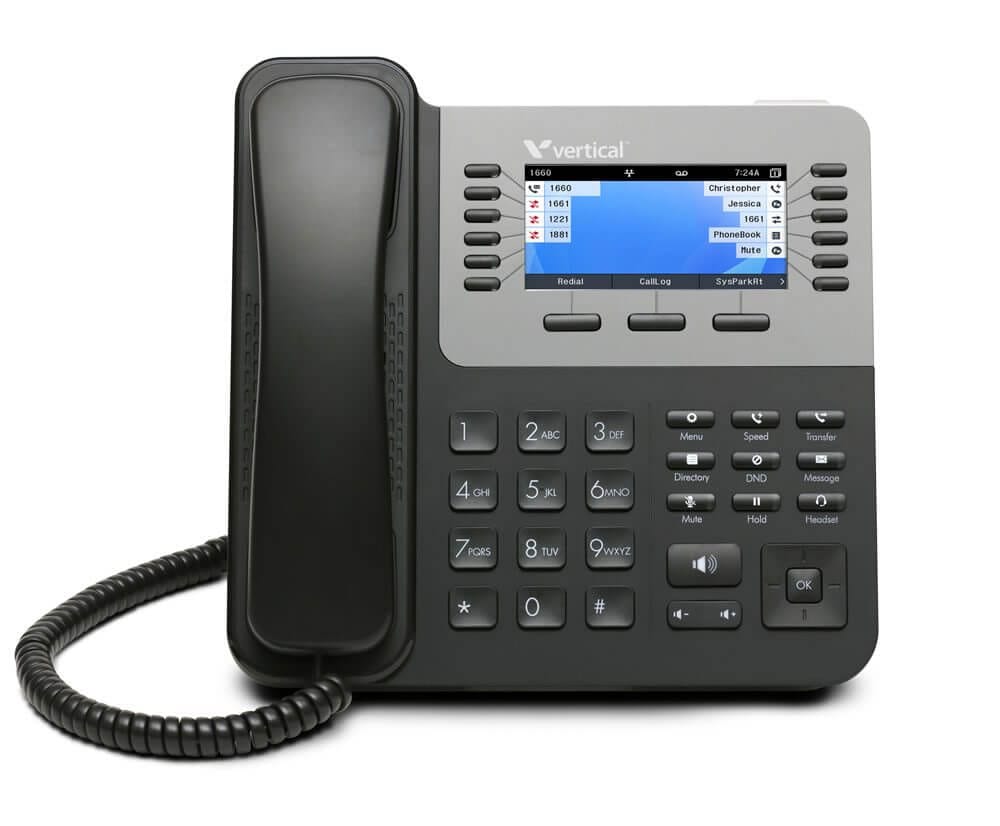 A business telephone system allows companies and other organizations to improve their communication between clients and colleagues. Business phones can range from just a few phones up to a complex PBX system utilized by large businesses.
What is a Remote Phone System?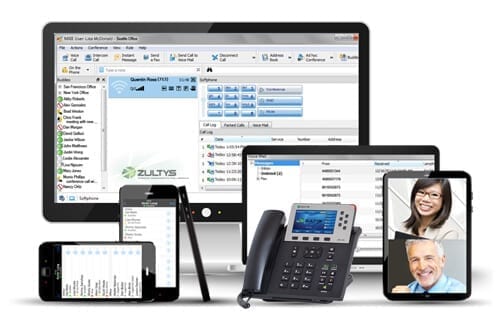 Cloud based VoIP phones are the best remote office phone systems for remote workers. When employees leave their remote offices, a mobile app allows them to remain connected to the corporate phone system. So now employees no longer have to be in the same office to work as a team.
How to Choose a Right Phone System?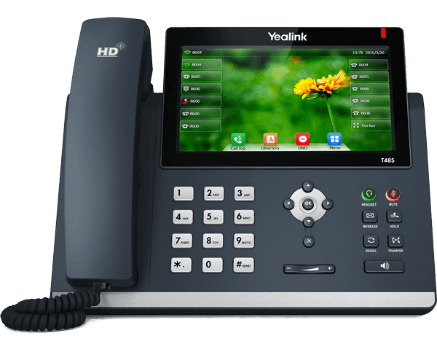 A phone system for business can be a key factor in the rise or downfall and for companies, having an efficient, reliable phone system is crucial to being successful in their industry.
Types of Phone Systems for Business
Traditional Phone
Traditional landline phones are connected through a cable network. There are copper wires ran underground, connecting one landline phone to the next, and so on. This type of telephone system can connect with people locally and nationally through a process called "circuit switching."
VoIP Phone System
Voice over internet protocol phone system are the most common phones for business today. It operates with a broadband internet connection rather than traditional phone lines. As long as you have a secure connection, you can make and receive calls from anywhere.
PBX System
PBX (Private Branch Exchange) is a private phone network for your office. This system can have one or multiple lines and has the same flexibility as VoIP system.
Cloud Based Phone System
With cloud-hosted phone systems, your hardware is taken off-site to a provider. While this can save you from the headache of getting maintenance specialists out in the case of an emergency, you have to rely on a provider.
Choosing the best phone systems for your business has never been easier! With a variety of reliable products and features to choose from, it's nearly impossible not to get precisely what you need.
Do I Need A New Phone System?
If you do not have a current means of communication or if you've found that your existing landline business phone system cannot adapt to your growing organization, you should consider investing in a new system.
How Do I Know Which Provider and Phone System Is Right for My Business?
Not only will the right business phone system grow with your business, but it will enhance the quality of your work. The right provider will also grow with your business, offering features that help to give your customers a memorable experience.
Is a VoIP Connection as Good as a Landline?
VoIP connections have a much better call quality than that of a landline. However, they do rely on a stable internet connection to make and receive calls, so if you live in an area prone to harsh storms and power outages, a landline connection may be best for your organization.
Which Features Are Available with A VoIP Phone System?
There are many features offered with a VoIP phone system, including auto-attendant, call forwarding, call recording, voicemail to mail or text, and many more. You should contact your provider for more information.
Can Remote Employees Access A Business Phone System?
Yes, there are many phone systems offered to remote employees. No matter if you're on vacation, a business trip, or a leave of sickness, you can work from home and on-the-go.
If My Business Has Multiple Locations, Does It Matter If I Have an On-Premises or Cloud-Based System?
This does not factor in the location of your system. For you to determine which system is best suited to your needs, you should consider how much work you plan to put into the system.
Are Computers Made to Make and Receive VoIP Calls?
As long as you have a secure internet connection, you can make and receive VoIP calls from any device, no matter where you are.
What does a business phone system do?
There are many different types of business phone systems with different capabilities, but each is designed to achieve many of the same key functions:
Direct and manage incoming calls to your business as efficiently as possible
Make outgoing calls to your customers
Optimize internal communication and connectivity
How do I set up a business phone system?
Setting up a business phone system doesn't have to be a chore, as long as you have the right business partner to help guide and lead you through the process. IDeACOM® NC can get you set up with a modern plug-and-play business phone system that's incredibly easy to use.
How do I select the right phone system for my business?
Before focusing on available phone and software features – and there are many! – you'll want to start by considering the size and scope of your business. How many employees do you have, and what kind of call volume do you anticipate needing to handle? Think about how many lines/extensions you'll need, too.
Am I able to keep my current business phone number?
You sure can! While some of that will depend upon the stipulations laid out by your current phone provider, along with which new system you choose to invest in, at IDeACOM® NC, we'll do everything we can to allow you to keep your current phone number if you wish.
How do I add new employees to my business phone system with IDeACom® NC?
Some of that will depend upon which business phone system you choose. With a VoIP system, it's very easy to add new users. Just log into your admin dashboard, create a profile for a new employee, assign a new extension, provide them with a plug-and-play phone, and you're done!
The Latest News From IDeACOM® NC
Check here for the latest news and announcements.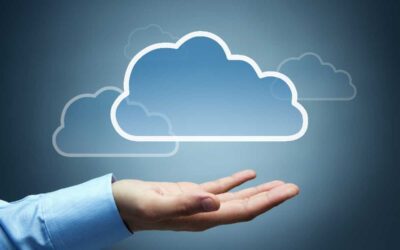 As a small business owner, you know the importance of having a reliable phone system to communicate with your customers and partners. But with so many options available in the market, it can be overwhelming to choose the right one that fits your budget and...
Frequently Asked Questions
Learn the basics, and get all your answers here of business phone systems for small and medium-sized business phone solutions.
Training Videos
Our training videos include quick start guides, setup guides, installation guides, and conference integration tutorials for all our major partners.
Get the best telecommunications service!
No matter the size of the budget we can provide you the perfect business solution.
We serve areas throughout North Carolina from the coast to the mountains, from Kernersville to Greensboro, to Winston-Salem and Charlotte.
6522 Airport Center Drive
Greensboro, NC 27409
Phone: (336) 854-4455
Fax: (336) 808-0882