72% of businesses that offer free WiFi see an increase in sales.
Free guest WiFi is no longer an amenity, it's a necessity. WiFi Marketing transforms guest WiFi into an engaging customer experience that collects customer data and boosts revenue. SpectrioCONNECT allows you to market products and services to your customers in real time and measure results.
1.
Capture
Leverage guest WiFi to Gather customer data
2.
Promote
Market your business to customers anytime, anywhere to drive sales and repeat visits
3.
Measure
View your real-time dashboard to track engagement and measure ROI
Do You Know Who Your Customers Are?
One of the most powerful tools businesses can use is its own analytics and customer data. With Spectrio WiFi you can access detailed customer analytics, enabling you to engage with customers through highly targeted communications. Spectrio's scalable, cloud-based solution allows you to personalize relevant and real-time interactions with your customers.
Customer enters your establishment
Customer joins your free guest WiFi and is greeted with a branded splash page
Customer logs in via email, Facebook or Twitter
You collect your customers' contact and demographic information
Your database now allows you to send real-time customer communications (such as coupons/discounts, surveys, announcements and more) via splash pages, email, social and SMS
Measure your ROI through click-through rates, open rates, increased engagement and repeat visits
YOU CAN SERVE EACH CUSTOMER THE RIGHT MESSAGE WHILE THEY ARE NEAR, IN OR RIGHT AFTER LEAVING YOUR LOCATIONS.
Campaign Management
WiFi Marketing offers multiple features to market to customers and analyze their behavior to increase revenue for your store. Increase engagement and repeat visits with branded campaigns through SMS, email, and social media. From the login screen to coupons and visit reminders, your brand is front and center and you are in complete control of what your visitors see. And it all integrates with your email provider and CRM.
Splash Pages
Put your brand front and center with our easy to use drag and drop builder that allows you to customize as many splash pages as you need. Promote likes and check-ins to your social accounts, and gather customer information with Facebook, Twitter and email logins. Your splash pages seamlessly integrate with your company website.
Targeted Campaigns
Customers expect a pretty good value exchange for giving up personal information. Make sure you're rewarding their trust, loyalty, and behaviors that help keep your customer-to-brand relationships strong. Send relevant communications in real-time via SMS, email and social media to customers who are at your location (or nearby) in a critical moment of decision or influence.
Notify your customers that a particular product they looked at on a previous visit is on sale.
Tout sales and promotions to customers with fraud-resistant coupons.
Tweet to customers nearby that it's lunchtime with an offer to come in.
Tell guests what amenities are open/closed during certain hours when they visit a facility.
Announce new services or store additions via automated Smart Email campaigns.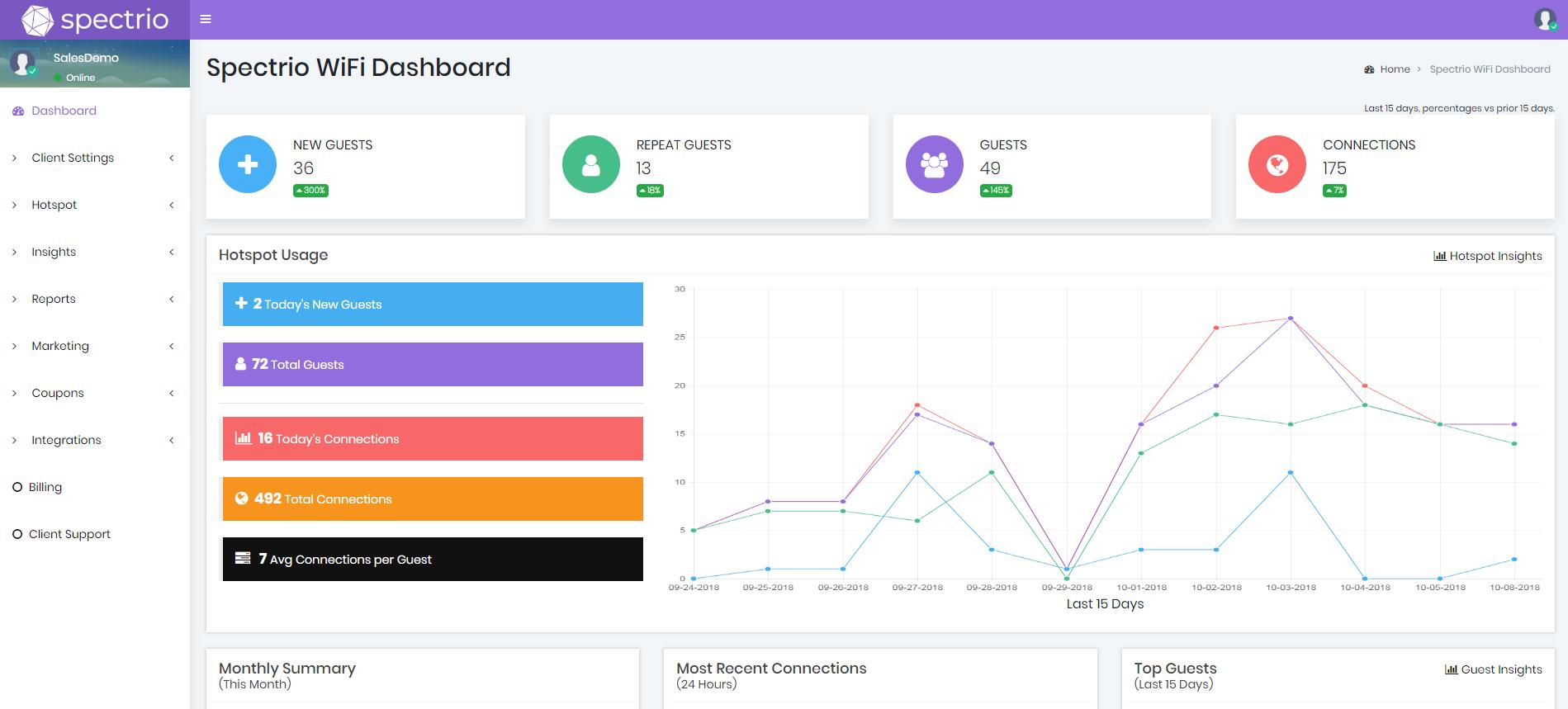 Analytics
WiFi analytics can significantly enhance your customer interactions, help you refine your marketing tactics, and send relevant campaigns to your customers in real time. The knowledge from data points like hotspots, guests visits, demographics, email open rates, coupon redemptions, footfall, and more allows you to serve dynamic messaging to each customer when they're most likely to take action. Our easy-to-use portal congregates everything in one place so you can quickly manage and take action on your insights and campaigns.
Learn in-depth about your customer patterns, habits across touchpoints, in-store, over time, etc.
Analyze traffic patterns and peak usage throughout the day
Understand the buying patterns of your shoppers
Real-time data to help you make relevant decisions in line with customer feedback
Control Your Network
WiFi Marketing isn't just good for your guests. It's good for your business, too. SpectrioCONNECT allows you to protect your network with separation between your guests and business assets. Free your staff up from constantly giving out the WiFi password. Promote efficiency with plug and play integrations. You can even prevent unauthorized users from taking up too much bandwidth. In today's fast-paced, technology-driven world there's no excuse for not taking full advantage of the capabilities WiFi Marketing offers.
Keep separate networks for guests and operations
Control bandwidth, provide session limits and even block unwanted users
Support multiple HotSpots from one dashboard
Collect valuable data from WiFi guests to help determine staffing and operational needs
Use Fraud Free Coupons to control and track coupon utilization
Turn WiFi on and off with business hours to avoid usage fees during off hours
Integrate seamlessly with your existing equipment and software